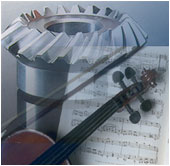 Virani Industries was established in 1961 as a family business. The beginning was to manufacture Spur Gears to cater to the growing Diesel Engine Industry of Rajkot.
In 1968, with the import of Klinglenberg Spiral Bevel Gear Generators, the foundation was laid to be the pioneers in India to manufacture gears for Industrial Sewing Machines, Power Tools, Agricultural Equipment, Auto Electric Starter Motors and Speedometers for two wheelers. Our Company specializes in Small Spiral Bevel Gears, Small Spur and Helical Gears, precision machining components for various applications.
Today, the Company's Annual Turnover is about US$ 2 million.
At Virani Industries, We cater to few of the leading and well-known companies including Singer India Ltd, Usha Sewing Machine Co. Ltd.,LML Ltd., Lucas Tvs Ltd., Bagla Electricals & Electronics Pvt Ltd., Panther Machines Pvt. Ltd., Anil Sales Corporation